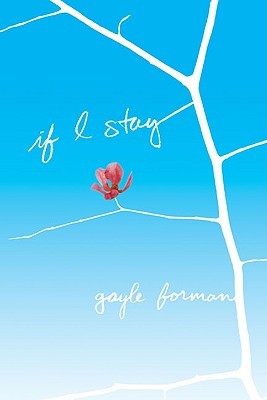 Author: Gayle Forman
Publish Date: April 2, 2009
Website:
https://www.goodreads.com/author/show/295178.Gayle_Forman
ISBN: 0525421033
List Price: $9.99
My Rating: 3 out of 5 stars
Jacket Synopsis:
Just listen, Adam says with a voice that sounds like shrapnel.
I open my eyes wide now.
I sit up as much as I can.
And I listen.
Stay, he says.
Choices. Seventeen-year-old Mia is faced with some tough ones: Stay true to her first love—music—even if it means losing her boyfriend and leaving her family and friends behind?
Then one February morning Mia goes for a drive with her family, and in an instant, everything changes. Suddenly, all the choices are gone, except one. And it's the only one that matters.
If I Stay is a heartachingly beautiful book about the power of love, the true meaning of family, and the choices we all make.
My Comments:
This is a cute, quick read. A range of emotions is experienced in her whole 24 hour period to decide to live or die in her purgatory type state. I really liked the story and the idea that we have a choice under certain circumstances to choose life or death from a third party view, contemplating, evaluating and checking the pros and cons of our choice. It was exciting and a book I couldn't put down ... but ... the end was a let down ... not in the inevitable decision Mia makes but in that it was so uneventful and abruptly ends without any emotion (happy or sad)... it just ends. It just seemed to be so much build... memories, decisions, visitors opinions, etc. and then done. I am not interested in picking up the second book to this one. I read the first chapter and "boring"... on to a new book and author.
I liked the writing style of Gayle Forman, but I just wish the ending was more fulfilling ... some kind of closure rather than it seeming that you "have" to go to book two to get that closure... Nope, not doing it.
I am interested in seeing the movie being made about the story to see which way Hardwicke takes it in (same director as Twilight). She always has an interesting interpretations of the book.