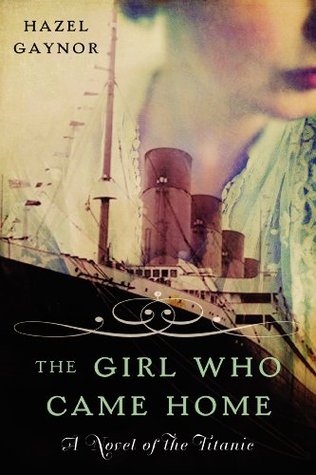 Author: Hazel Gaynor
Publish Date: March 1, 2012
Website:
https://www.goodreads.com/author/show/5774172.Hazel_Gaynor
ISBN: 9780062316868
List Price: $9.48
My Rating: 5 out of 5 stars
Jacket Synopsis:
A voyage across the ocean becomes the odyssey of a lifetime for a young Irish woman. . . .
Ireland, 1912 . . .
Fourteen members of a small village set sail on RMS Titanic, hoping to find a better life in America. For seventeen-year-old Maggie Murphy, the journey is bittersweet. Though her future lies in an unknown new place, her heart remains in Ireland with Séamus, the sweetheart she left behind. When disaster strikes, Maggie is one of the few passengers in steerage to survive. Waking up alone in a New York hospital, she vows never to speak of the terror and panic of that fateful night again.
Chicago, 1982 . . .
Adrift after the death of her father, Grace Butler struggles to decide what comes next. When her great-grandmother Maggie shares the painful secret about Titanic that she's harbored for almost a lifetime, the revelation gives Grace new direction—and leads both her and Maggie to unexpected reunions with those they thought lost long ago.
Inspired by true events, The Girl Who Came Home poignantly blends fact and fiction to explore the Titanic tragedy's impact and its lasting repercussions on survivors and their descendants.
My Comments:
I thought this was a great read. I am a huge fan of historical fiction and I really enjoyed the way the author intertwined current day with the 1912 memories of the characters. In this story, the author takes true stories from the Titanic and real people who sailed, changes their names, and adds historical fiction to really engage the reader. This was a book I couldn't put down and I loved every bit of the story. Titanic has always interested in and to put it with historical fiction only makes it that more exciting. The story is so engaging you do not really know up until the end of the book who survives and what they leave behind... to share with their family and the readers...
I loved the author's writing style. Even though you are flipping from 1982 to the 1912, the author lays the chapters out logically and the changes in time are easily made so that you are able to take yourself from one time period to another. She also writes this story so vividly you can imagine yourself in 1912 with all the splendor that Titanic was and even as Maggie and her party of traveling across Ireland to meet the amazing ship for their voyage to America... you can feel yourself riding in the traps, walking alongside Titanic in wonder, and amazed at all there is in the third class... even a sink in your cabin!
I look forward to more books from this author!