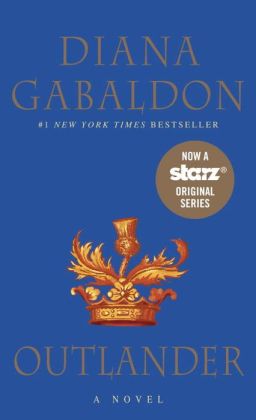 Author: Diana Gabaldon
Publish Date: 6/28/1992
Website:
https://www.goodreads.com/author/show/3617.Diana_Gabaldon?from_search=true
ISBN: 9780440212560
List Price: $7.35
My Rating: 5 out of 5 stars
Jacket Synopsis:
The year is 1945. Claire Randall, a former combat nurse, is back from the war and reunited with her husband on a second honeymoon--when she walks through a standing stone in one of the ancient stone circles that dot the British Isles. Suddenly she is a Sassenach--an "outlander"--in a Scotland torn by war and raiding Highland clans in the year of Our Lord...1743.

Hurled back in time by forces she cannot understand, Claire is catapulted into intrigues and dangers that may threaten her life...and shatter her heart. For here she meets James Fraser, a gallant young Scots warrior, and becomes a woman torn between fidelity and desire...and between two vastly different men in two irreconcilable lives.
My Comments:
I was excited to read this book after starting the Starz series. I've had the book forever and forgot that I had it. The book has not disappointed at all. I have finished the 800 page book in less than a week because I was just that excited to keep reading. I could not put this book down. The writing is wonderful and so descriptive it creates the world and life of 1743 easily for the reader. I could picture myself in every scene from the landscape, the people, and the action occurring in the scene.
I find it so interesting how Claire has to adapt her 1945 medical knowledge to what's available to her in 1743. Her innate need to help the injured drives her into danger and suspicion. The superstitions of the day are so dangerous and leave Claire, who uses knowledge and objective judgement, to be in constant fear of harm even when trying to help those around her. The writer's character development is great. It's almost as if you know these people at every page turn. My only irritation with the book is how Claire, for once, cannot listen to the advice Jamie gives her to be safe and stay put, especially once he leaves for the "hunt." I could have just strangled her myself in that scene and the turn of events.
The story's twists and turns leave you needing to read more and more to see if and when Claire will make it back to the traveling stones to possibly return to 1945. Her choices seem obvious to the reader, but you just do not know what Claire will choose until the last moment. The sacrifices that Jamie makes are almost heart wrenching. The trials and predicaments that are presented throughout the book are all together intriguing and draw the reader to another place and time experiencing the vivid adventures.
The TV series is doing a good job of translating the book to the TV screen. I hope that they stay true to the story as much as possible and not take too many liberties.
I am waiting for Dragonfly in Amber to arrive! Outlander Fan for life!